The Laserspray-method is the most recent member in the family of thermal spray methods.
Instead of Flame, Plasma or electrical current, the Laserspray uses light as energy-source to melt the powdery coating materials and to create a metallurgical bond of coating-layer with the surface of the workpiece.
Special lenses and optics create a Laserbeam, able to melt powdery coating-materials in the very moment they are impacting on workpiece's surface and form a metallurgical bond of the molten powder particles with the component's surface. The fully automated process control is monitoring continually the melting process and regulates the Laser-power within a millisecond to achieve optimal metallurgical bond.
This smeltery bond is similar to welded connections, but has some significant advantages:
Due to the continuously adjusted Laser-energy, the heat-introduction can be minimized without risk of incomplete fusion or bond. This allows a reduced homogenizing-section with dramatically reduced Fe-mixing. The Lasersprayed coating layer is much more pure and homogene in structure, as a traditionally welded one!
When looking for a corrosion-protective coating, this advantage can be used to reduce the necessary layer-thickness of a Lasersprayed coating considerably (compared to traditional welding) and still have the same corrosion-resistant properties. As the process runs fully automated, high process-reliability is given.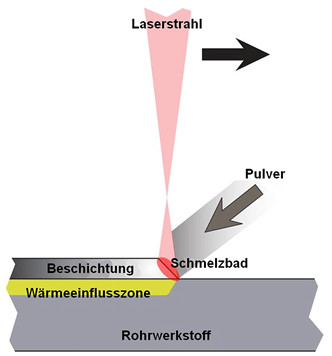 Häuser & Co GmbH utilizes Laserspray to coat or restore and repair a variety of components and constructional elements.
In boiler-construction tubewalls are coated with "Inconel 625" or "Hastelloy C" as alternative to traditional welding.
In maritime applications, temperature-sensitive components made of duplex-materials can be coated with Nickel- or Cobalt-base alloys.
Valves, spindles, mountings, bearings, bushings and armatures can be repaired, renewed or restored by using our Laserspray technology.